On 1 July, Estelle Brachlianoff succeeded Antoine Frérot as Chief Executive Officer of Veolia. Antoine Frérot will continue to serve Veolia as Chairman of its Board.
---
Estelle Brachlianoff, Chief Operating Officer since 2018, has been with Veolia for 17 years.
Estelle Brachlianoff joined Veolia in 2005. Between 2012 and 2018, she was Senior Executive Vice President UK & Ireland and a member of Veolia's Executive Committee. In July 2018, Estelle Brachlianoff was appointed Chief Operating Officer.
Meet her in this introductory film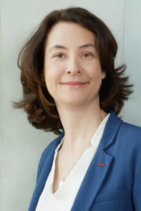 Times have changed, and in a few short years we have moved from simply being useful to facing an emergency: to find and deploy all the solutions to enable our customers, regions and industries to face the threats posed by climate change and resource depletion. This emergency imposes a new responsibility that I accept with enthusiasm as I take on my roles today: to make Veolia a creative laboratory for a livable future.